Drummer Emree Wilson, born and raised in Ottawa Canada (currently based in Toronto, ON), has been heavily influenced by his family roots. His Jamaican and South American heritage are delicately simmered into his unique musical flavour. Emree is a graduate of Carlton University's music program, earning an honours degree. While in school he was a member of several ensembles: Contemporary, Fusion, Jazz and West African Rhythm.
Emree is a versatile and skilled drummer; his personal fondness and musical passions are with Funk, R&B, Soul, Jazz and Hip-Hop. While living in Toronto, Emree jammed at The Rex Hotel, Jazz & Blues Bar - a legendary venue on Toronto's Queen West. He also played at Toronto's iconic El Mocambo, and Grossman's Tavern. In Ottawa, Emree has performed at: Ritual Night Club, Zaphod Beeblebrox, Mercury Lounge, Babylon, The Avant- Garde Bar, and The Rainbow Bistro.

Emree has had the pleasure to work with local Ottawa artists Mackenzie Rhythm Section, Slack Bridges, Old Stereo, The Brook, and Rezene.
Powered by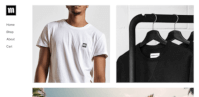 Create your own unique website with customizable templates.